Guy Harvey
Avid fishermen, anglers, and sea lovers in general are bound to find Guy Harvey rugs to be the perfect complement to their living spaces. Whether your home, office, or classically decorated beach house needs a little more color or simply a fresh decorative touch, these rugs can liven up even the most subdued settings. Featuring creative depictions of sea life, these rugs are named after one of the most renowned marine life artists in the world, Guy Harvey. Also a marine biologist and a conservationist, Harvey began his career as a scientist, but because of the unprecedented acclaim he received as an artist, his lifetime hobby of creating sketches and paintings of sea life became a full-time occupation. Now, Harvey is known for his murals in public areas such as airports and universities, his line of clothing and accessories for fishermen, and his artwork, which sells for tens of thousands of dollars.
---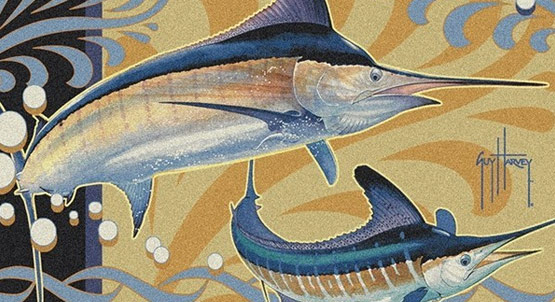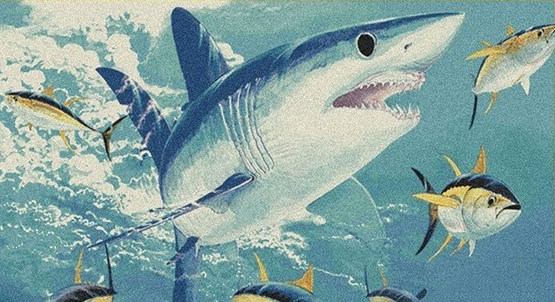 ---
Guy Harvey Rugs for Anglers and Sea Lovers
Rugs Direct offers a wide variety of Guy Harvey rugs, which are replicas of his original paintings. Composed of 100 percent nylon pile, these machine-made rugs are injected with colorfast dyes so that they're always as vibrant and colorful as the day you bought them. The company that manufactures them, Milliken, and Guy Harvey donate part of the earnings to the Guy Harvey Ocean Foundation, which leads conservationist efforts to halt overfishing and contamination and promote sustainable fishing practices. There are various area rugs to choose from, including depictions of tropical fish, marlins, and sharks. The
Modern Marlin
rug, for example, depicts two marlins on a taupe background and comes in a variety of sizes, from a smaller accent rug to a large area rug. Then there's the
Old Man and the Shark
rug, which is inspired by the work "The Old Man and the Sea." Also made of nylon pile and created with colorfast dyes, this unique rug which depicts an old fisherman catching a shark. From vivid illustrations of dorado and bass to detailed portrayals of sharks and tuna in their natural habitat, Rugs Direct has a large assortment of Guy Harvey rugs for every preference and need.