Buck Wear
Avid hunters and anglers can add the perfect rustic touch to their home, office, or cabin interiors with Buck Wear rugs. Known for the high-quality artwork that appears on its lifestyle apparel for outdoorsmen, Buck Wear is an American company that was founded more than 20 years ago in Baltimore, Maryland. With the intent of providing home furnishings with its designs, it joined United Weavers of America to elaborate high-end rugs featuring artwork reminiscent of Native American and Southwestern styles. With over a hundred thousand decorative pieces to choose from, Rugs Direct offers a wide variety of area rugs and accent rugs for your home interiors. Whether you're in search of just the right ambiance for your home, vacation house on the beach, or city pied-à-terre, we have decorative accessories that combine perfectly with any home decor.
---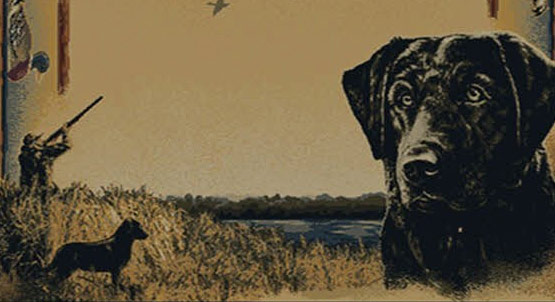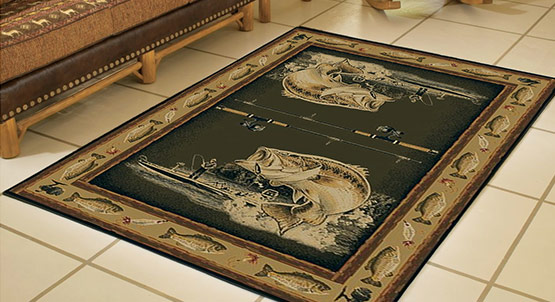 ---
Rugs for the Outdoorsman
One of the most popular Buck Wear rugs is the
Fight for Dominance
piece. Depicting a fight scene between two elk bulls, this machine-made, highly durable olefin rug is ideal for rustic settings. The avid hunter and outdoorsman will surely appreciate its quintessential lodge look and its availability in a wide variety of sizes, from runners and accent pieces to large area rugs. This same scene is also used in the
Winner Takes All
rug, which can be placed either horizontally or vertically due to its symmetric nature. Ideal for a recreational room, den, or basement, it is also machine-made and composed of 100 percent synthetic olefin material for long durability. As with all Buck Wear rugs available through Rugs Direct, it also comes with a one-year manufacturer warranty.
Buck Wear Rugs for Hunters and Fishermen
The outdoor sportsman will also find scenes evocative of his favorite hobby with the
Duck Hunter
motif. Depicting two large retrievers, a flock of ducks, and two duck hunters, this design is sure to appeal to his lifestyle. Also made of olefin, this durable machine-made rug is intended to last many years in even the most rustic settings. For avid fishermen, there's also the
Believe Bass
rug, which comes with a fishing-motif border and a scene of an angler and his gigantic catch. Whether you're a hunter, a fisherman, or an all-around outdoorsman, you can browse Rugs Direct for the ideal decorative piece for your needs.